Services
MyUSO
Store and share documents securely via your computer, tablet or phone.
myDrive is a part of the myUSO digital resource launcher. It offers secure file storage where each school can purchase the amount of storage space to suit their users' requirements.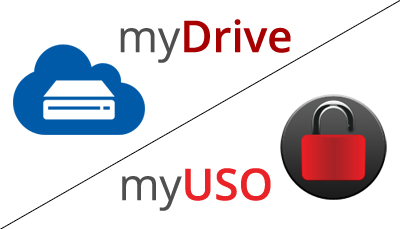 Introduction to My-USO
What is myDrive?
myDrive is a secure file storage and sharing platform found within the myUSO digital resource launcher.
Upload documents, images or any other files. myDrive allows you to keep files private or share them with colleagues and even pupils. Documents can be uploaded, accessed and shared from your computer, tablet or mobile phone.
How it works
If you already use myUSO then you have access to myDrive. Each person, staff or pupil, is initially allocated a small amount of document storage space secured by USO authentication.
Users can store any type of documents in this area, organised into a folder structure. Users can give others access to individual items or share folders with defined individuals or groups.
Shared folders have access control so that the person sharing the folder can allow others to simply view the files or to make changes to the folder by adding and deleting items. OTP (second-factor authentication) is also available to further protect folders containing sensitive documents.
Initially, every staff member in a USO-enabled school will have 10Mb of storage space allocated to each staff. Schools can upgrade their storage capacity by purchasing additional space and allocating space to students where this is desired.
Schools that subscribe to LGfL are entitled to an initial 500GB of space free of charge with additional space available at £299 for every 500GB per year.
Nominated Contacts at your school will be able to assign different amounts of space to all users via a dedicated configuration page.
A dedicated app to access and manage files across various devices is due to be released in the near future.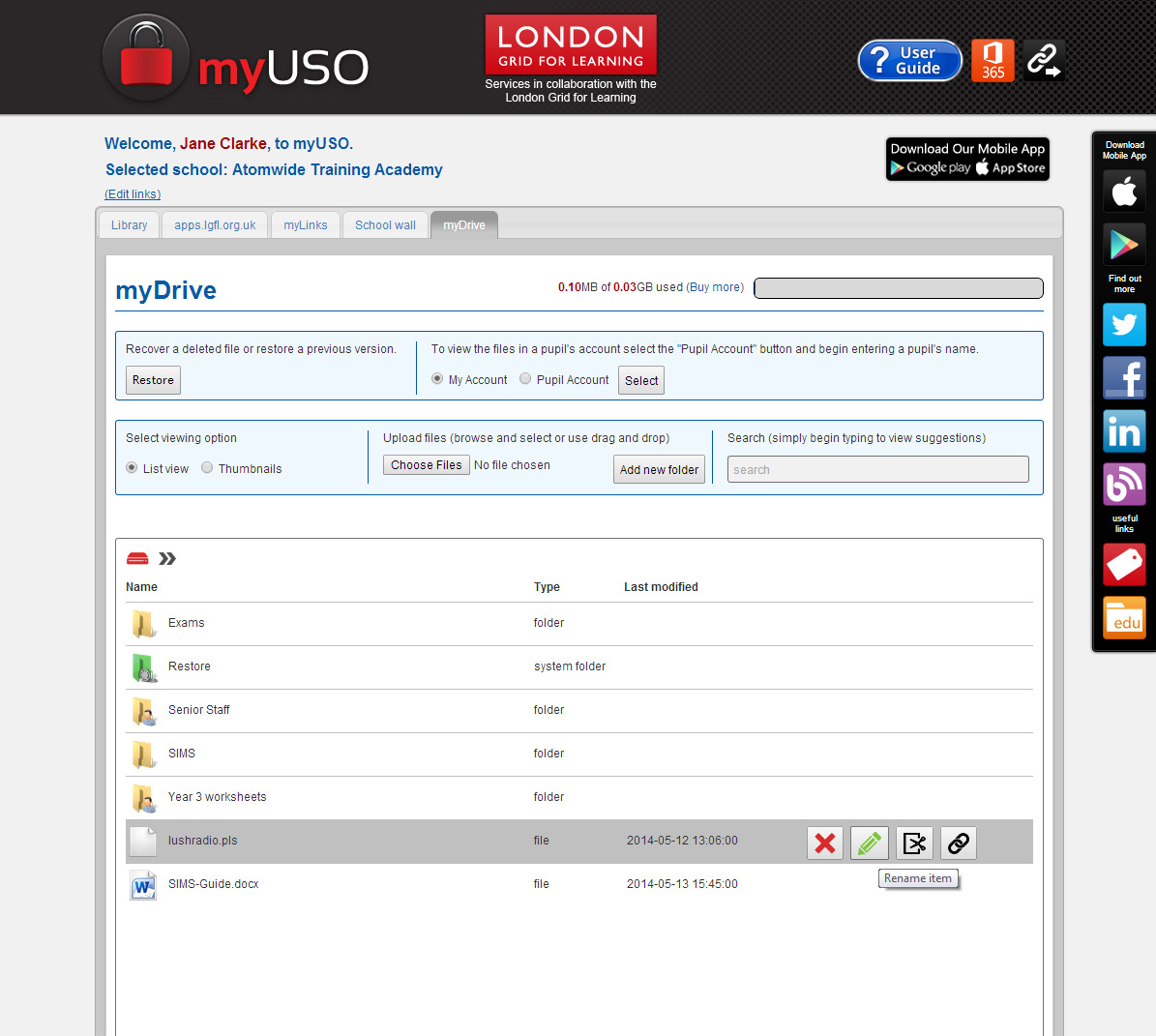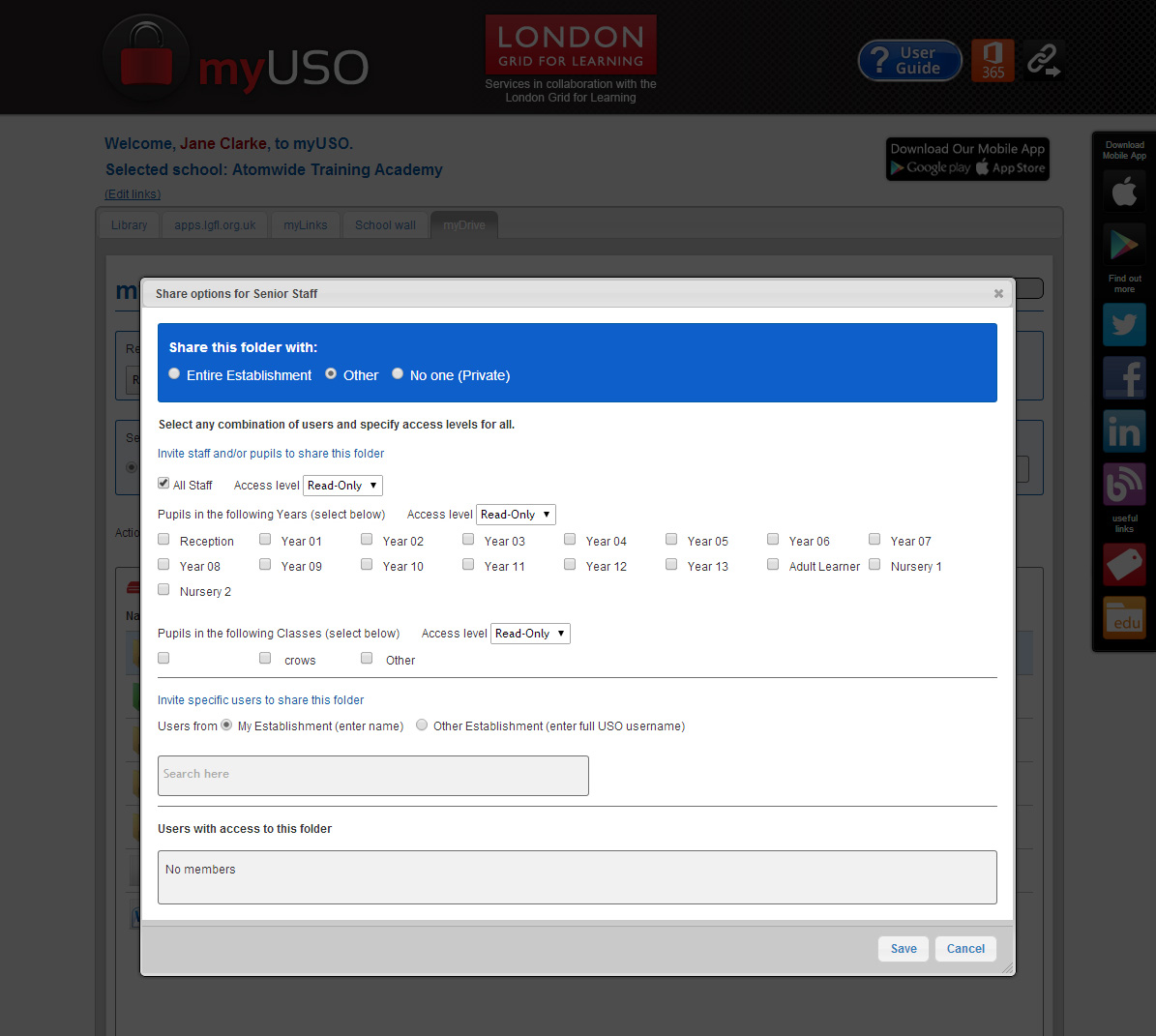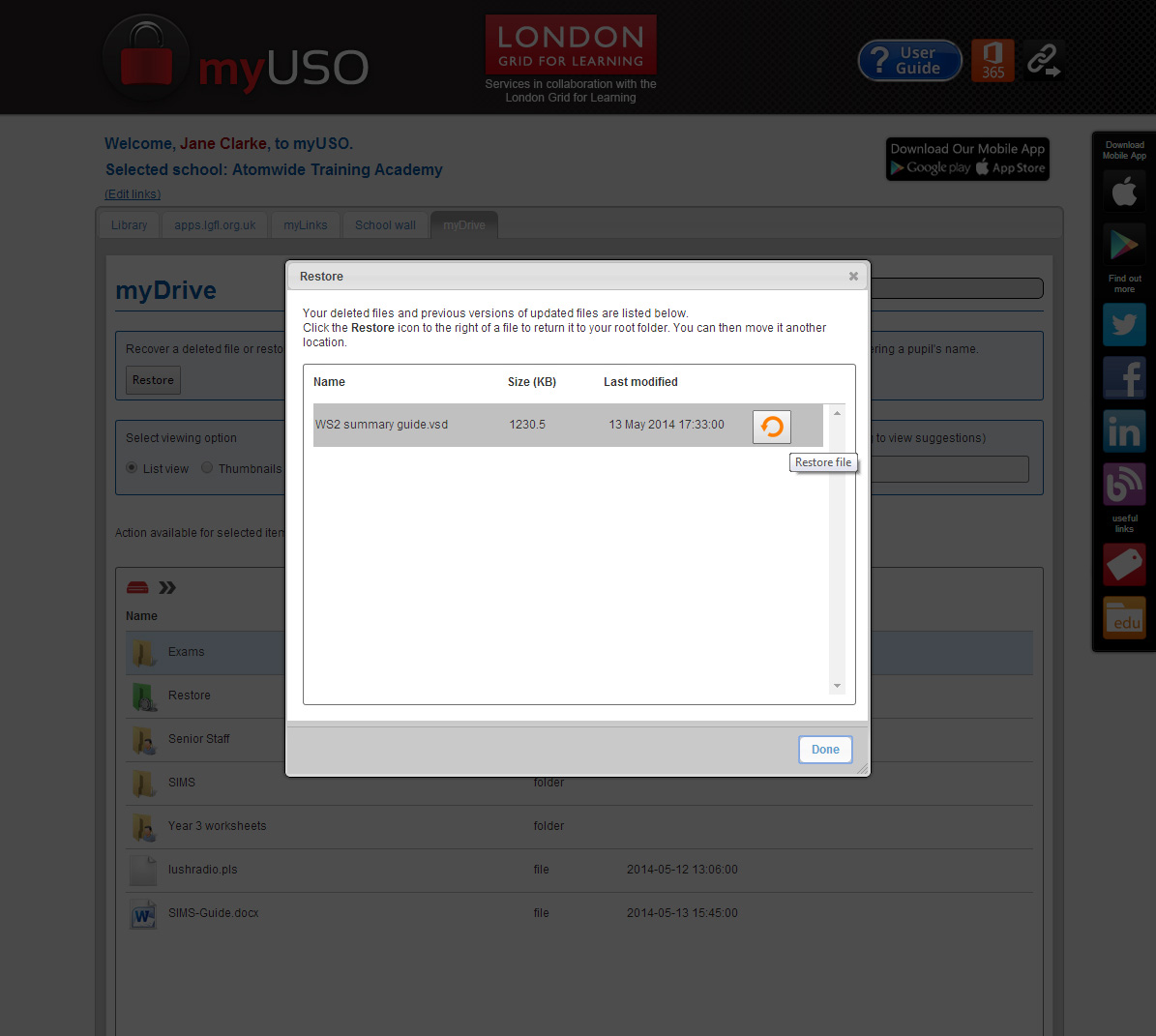 How is it configured?
After your school has purchased an agreed amount of storage space the Nominated Contact configures how it is allocated to all users. Space can be allocated by creating rules covering all pupils, all staff, year groups, classes or individuals, depending on how much total space has been purchased for your use. A simple, user-friendly web page allows settings to be defined with just a few clicks. 
Why MyUSO/MyDrive?
Accessible, convenient, secure
MyDrive allows you to share securely and easily. It also offers configuration control to adjust space allocation on a per user or per group basis easily and quickly.
Share files with colleagues in or outside your own school

Shares files with any other USO account holder in a secure fashion

Make documents accessible to pupils

Control access privileges when sharing your files

School defines how much storage space each user has
Affordable & scalable
A highly cost-effective price structure has been designed to fit in with tight school budgets.
Storage space can be purchased in increments of 500GB with each 500GB costing £299 per year.
Please contact us at services@lgfl.net to discuss your needs and obtain a quote.
More from LGfL
Offers on Chromebooks and Windows devices